Connecting Farmers and Land Owners by Land Link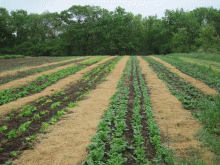 The Center's Land Link program connects new farmers with available farmland in the Madison area. Every year we hold public "matchmaking mixer" events, bringing together aspiring organic farmers in need of land with farmland owners in the Madison area. Our interpreters facilitate their conversations in Hmong, Spanish and English, and we provide model leases. We welcome inquiries from organic farmers and aspiring farmers looking for land, and from landowners in the Madison area who would like to offer their land for organic production of food for local consumption.  
View a recent Land Link Mixer announcement.

Learn more about our Land Link Program from our radio interview on WORT.

We are also seeking donations of farm equipment. 
The Farley Center Farm Incubator requests donations of farm equipment in good working order for our beginning farmers to use in all aspects of vegetable and fruit production.
Tools needed include:
Small simple tractors without electronics (30—60 hp) with 3-point hitch and hydraulic controls
Implements including brush hog, chisel plow, field cultivator, disk harrow, drag harrow, root harvester, hilling disks, bed shaper, rototiller, trailers, wagons
Walk-behind tillers
Post-harvest handling and refrigeration equipment
If you are interested in renting or leasing farmland, or donating farm equipment, contact the Farley Center Farm Managers at:
This email address is being protected from spambots. You need JavaScript enabled to view it. or 608.228.9097