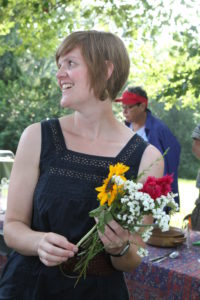 Lindsey Lund
Office Manager
Lindsey grew up in Madison as part of La Samaritaine, an intentional community on Willy Street that focused on simple living and social justice. After graduating from East High, she lived in Bolivia for a year as part of an international exchange program. Four years later, she graduated from Macalester College with a degree in Environmental Studies, Geography and Spanish. After a year working in the Twin Cities, she lived in Seattle for eight years working for a non-profit housing/homeless services organization.
Family, cold winters (just kidding), and the opportunity to own a home and fix it up with her handy father called her back to Madison in 2013. Lindsey loves to ride bikes, fix up her house, and play with her niece and nephew.
She is happy to be back in Madison and working at the Farley Center!
This email address is being protected from spambots. You need JavaScript enabled to view it.