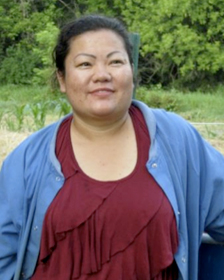 Yee Ythao
Born in Thailand, Yee has been growing vegetables since her youth. In Madison, Yee started growing initially at Quann Community Garden, where she met Janet Parker and began a conversation that eventually led to the idea of starting an incubator farm at the Farley Center. Yee has served as an advisor to the Farley Center Incubator since it was founded in 2010. Yee also served as a Farley Center Board Member from 2011-2014.
2013 was Yee's first year of market farming as a member of the Spring Rose Growers Cooperative. This is in addition to her job as a Certified Nursing Assistant at St. Mary's Hospital, where she has worked since 2001. However, Yee has always dreamed of growing a diversity of vegetables, being outside, listening to the birds and producing delicious food. Yee's farm is named "Yee Circle Farm" based on the community and family that surrounds her life and has made farming possible for her.  Yee lives in Madison with her husband and three children.
Sign up for a CSA share with Yee Circle Farm here.