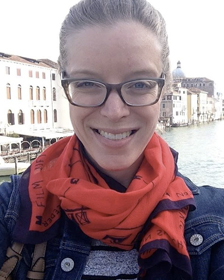 Rebecca Farley David
Board Member & Family Member
Rebecca Farley David got her start in politics and social justice when her grandparents, Gene and Linda Farley, took her to the 2004 Wisconsin Democratic Party Convention. After graduating from college, she lived at the Farley house while handling health care issues for Wisconsin State Senator Mark Miller, where her professional highlights included traveling the state with Gene and Linda to build support for the Senator's single payer health care bill.
Rebecca is now the Vice President for Policy and Advocacy at the National Council for Behavioral Health, where she advocates for policies to expand access to addiction and mental health care. She's a not-so-secret health policy nerd who's just as happy to talk your ear off about mental health and addiction treatment financing as she is to share the latest exciting developments at the Farley Center. She is certified in Mental Health First Aid and is a trained crisis counselor. She and her husband live in Washington, DC.
Rebecca has been on the Farley Center Board since 2015.