Beekeeper Incubator Informational Meeting
February 25, 2017 @ 1:00 pm

-

2:30 pm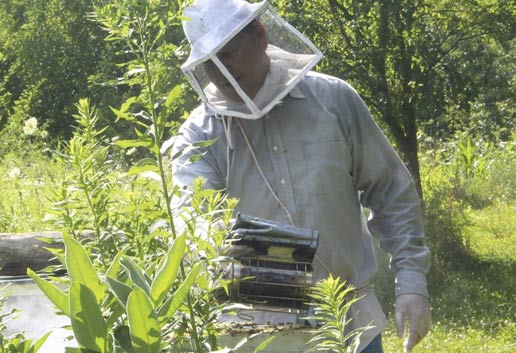 The Farley Center is launching a Beekeeper Incubator Pilot Program to help promote small-scale, sustainable beekeeping in Wisconsin by providing an environment and guidance to learn beekeeping.
The informational meeting at the Farley Center will be with our beekeepers Patrick Norby and Dan Hedtcke and Farley Center staff. The fee for this program will be $400* to cover the bees, the use of the suits, equipment, etc… more information will be given out at the meeting.
Individuals interested in becoming beekeepers will keep 1 hive of honeybees at the Farley Center and meet regularly with a Farley Center beekeeper for guidance and mentor-ship.
Equipment, protective gear, tools and bees will be purchased by the Farley Center and will be available for use in a designated area by any program participant.
At the end of the season, participants will be shown the honey extraction process, and will be able to keep honey from the hives in containers that participants provide. We will talk more about this in detail at the meeting.
After honey extraction, participants will prepare their hives for winter, at such time management of the hives is taken over by the Farley Center Beekeepers for use in the next year's program.
Since this a pilot project for the Farley Center, we will are limiting the number of participants. If you think you may be interested, please send an e-mail to and we will get you in touch with Patrick or Dan to answer any questions you may have before the meeting.
We would like to sign people up at this meeting so we can go forward with ordering the bees, suits and other equipment needed to launch this program a few weeks after the Feb. 25 meeting.
*Hives, bees and equipment remains the property of the Farley Center.