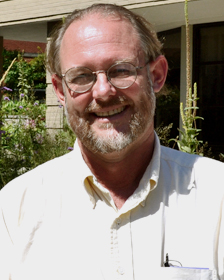 Dr. Bruce Barrett
Board Member
Bruce Barrett MD PhD is a practicing family physician at UW Health Verona and tenured professor at the U.W. Department of Family Medicine and Community Health. His career began with on-the-ground medical anthropology and public health work in Nicaragua (1984-91) and Guatemala (1992-93). After completing medical residency in Eau Claire, he came to UW Madison, where he has been teaching and research faculty ever since. Research projects have focussed on acute respiratory infection, herbal medicine (echinacea), placebo effects, and mindfulness meditation.
He is an engaged activist with interests in human rights, equity, and environmental sustainability, working with the Farley Center and Wisconsin Physicians for Social Responsibility. He founded Mindful Climate Action, which seeks health-enhancing solutions to the threats posed by global warming and climate change. http://www.fammed.wisc.edu/mca
Dr. Barrett joined the Farley Center Board in 2015.