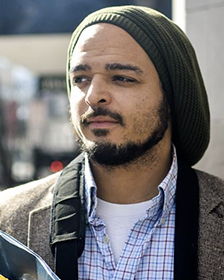 Johnny Justice
Board Member
Johnny Justice is a filmmaker and a social justice entrepreneur. He along with his wife, Marie, are the founders and co-owners of Justice & Justice Productions, a firm that specializes in documentaries, photography, and branding, with a focus on using their creativity to help drive social change in the community and beyond.
They recently produced the Intentionally Welcoming Communities documentary 'Walk a Mile in Their Shoes,' which is a very powerful documentary that showcases five people from marginalized communities who tell their stories in their own words in hopes of dispelling stereotypes and revealing their commonalities as human beings. Besides producing films, Johnny is also the founder and CEO of We Are Icons, an empowerment photography campaign that he is launching to help redefine perceptions of beauty.
He and his wife reside in Madison, WI where they are raising and homeschooling their four kids; while instilling upon them the same creativity, individuality, and thirst for equality and social justice that they try to live by.